In a few dates:
Paris Saint-Lazare Station – Saint-Germain-en-Laye
François Seurin, bar tender, gets a ferryman concession between Croissy and the island.
Inauguration of the bridges between Bougival and Croissy. Installation of the two barges, the Café-Bal and the fitting-rooms for bathingsuits.
Monet and Renoir painted next to each other at the Grenouillère, leaving the 5 famous paintings. Napoléon III and Eugénie visit the Grenouillère.
A fire destroys the two barges. La Grenouillère establishes on the bank.
Michel Saint-Léger, the owner of La Grenouillère, loses his trial and is expropriated. Following the enlargment of the right arm of the Seine, la Grenouillère is buried.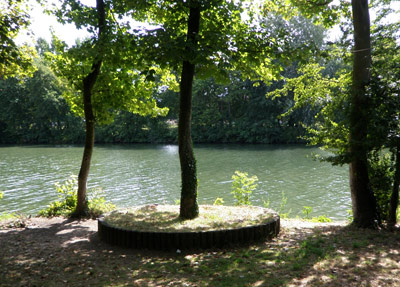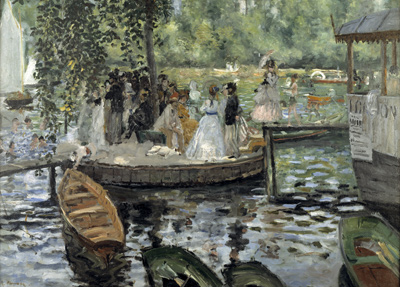 Extract from the film screened at the Museum :
Animation Design Bénédicte Thouvenin
The actual place
La Grenouillère was on the seawall between the island of Aligre of Croissy and the island of Chiard of Chatou, nowadays facing the Chanorier castle Croissy side, and Esso stadium on Rueil side.
The Grenouillère having been destroyed in 1928, the Association des Amis de la Grenouillère recreated the famous Camembert at its original place in 1999. One can go there walking to the river crossing the bridges between Bougival and Croissy or though the Impressionists island of Chatou. Due to the floods in mai 2016, the site is closed.